Heritage and Democracy Films This October on WORLD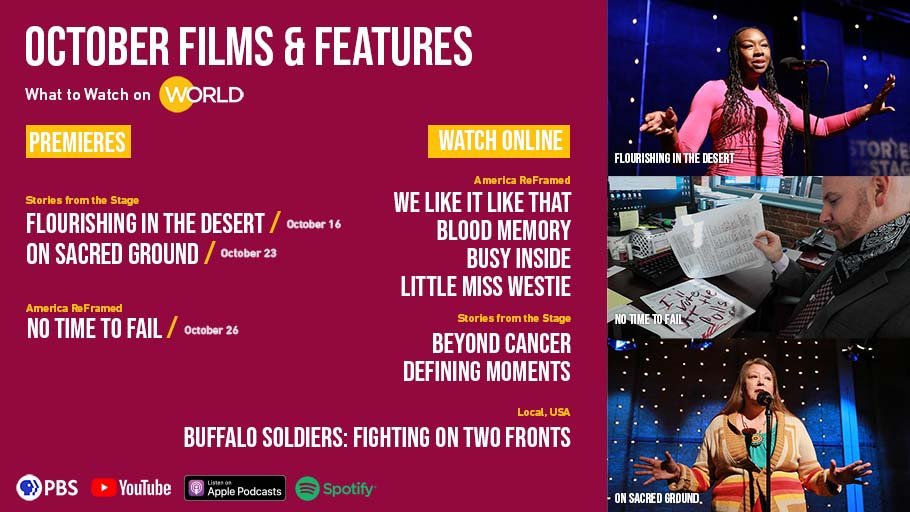 With political eyes on Georgia, Rudy Giuliani and the 2020 and 2024 presidential elections, democracy remains at stake. This month, we continue to focus our attention on the state of the government "of the people, by the people, for the people" with a new film offering a rare inside look at the process to election day – and the people behind the voting booth curtains. Premiering October 26, No Time to Fail features election officials determined to carry out a non-partisan and safe presidential election in Rhode Island amid a global pandemic and assertions of fraud from a sitting president.
And Stories from the Stage returns for a new season on October 16! Listen to new stories from tellers from across the country and around the world, including two special episodes produced in partnership with Arizona PBS, Nebraska Public Media and Vision Maker Media. But first, listen to a new Stories from the Stage: The Podcast – Rebuilding After Cancer – on October 2 that lifts up stories of survival to mark Breast Cancer Awareness Month.
Plus, Hispanic Heritage Month celebrations continue – watch stories of the joys and cultural impacts of these communities through October 15 and beyond. And in commemoration of Indigenous Peoples' Day on October 9, enjoy a special digital presentation of America ReFramed's Blood Memory, following Sandy White Hawk's journey to reconnect with her Native heritage.

PREMIERES
Celebrate the new class of Hispanic Heritage Award honorees, including Grammy nominee Omar Apollo; Chairman of NBCUniversal News Group Cesar Conde; Grammy- and Latin Grammy-winning musicians Café Tacvba; co-Founders of Siete Family Foods Veronica, Miguel and Aida Garza; and reggaeton and urbano pioneer Wisin. Hosted by Leslie Grace ("In the Heights").
50 Years of Harm | The Laura Flanders Show
October 1 on TV | Available on YouTube
Some of the most extremist U.S. bills are drafted and pre-voted on by wealthy corporate lobbyists and state politicians. Rep. Ro Khanna and Lisa Graves call out The American Legislative Exchange Council, or ALEC, who has infiltrated American politics for 50 years, to unpack the group's influence and impact on American politics.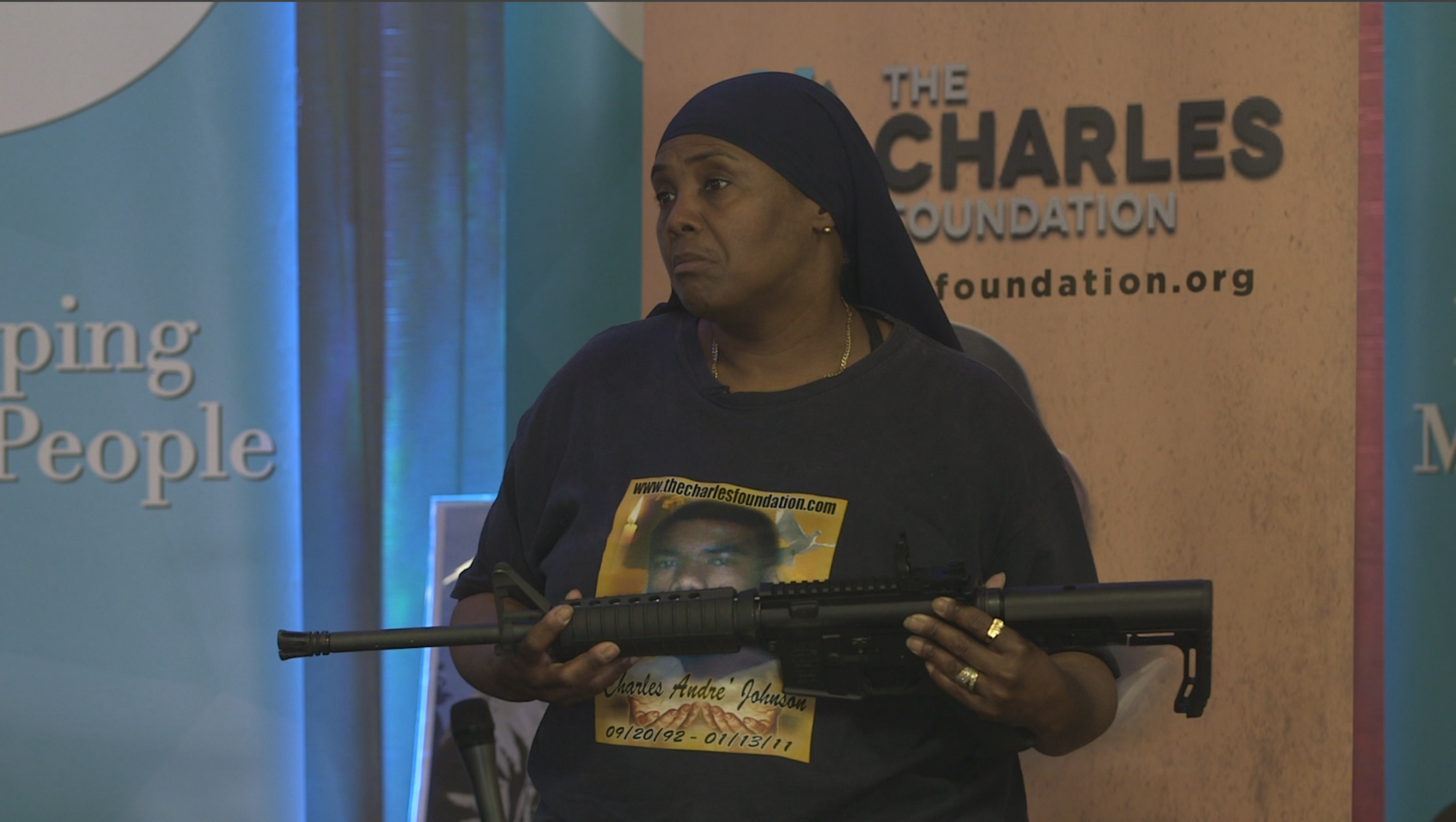 How would you handle the trauma of losing a loved one? Follow African American Muslim mother Movita Johnson-Harrell over five years as she transforms from a victim of violent trauma into a fierce advocate against gun violence in Black communities. Produced in association with ITVS.
FRONTLINE examines the Houston Astros cheating scandal and what it says about baseball today. With reporter Ben Reiter, the documentary traces the making of one of the best teams and worst scandals in modern Major League Baseball history, the limited accountability and how the Astros' approach to baseball changed the sport.
Witness the major personal and political events of the life of celebrated Mexican artist Frida Kahlo, including her stormy and devoted relationship with artist Diego Rivera.

Hispanic Heritage Month Birthright
October 7 on TV | Available on the PBS app
Cuban-American electro-funk musicians Cristy "Cuci Amador" Garcia and Tony "Smurphio" Laurencio embark on their first trip to Cuba since President Barack Obama signed a treaty to renew normalized relations with Cuba's leadership. The dynamic Miami-based duo are invited back to perform in Havana and meet old friends and new as they visit their family's familiar haunts to explore who they are, where they come from and what it means to feel Cuban.
Hispanic Heritage Month The Last Mambo
October 8 on TV
Exploring the San Francisco Bay Area's Latin music scene. In the 1930s, musicians of color played in racially-segregated areas; in the 1950s, Mambo craze and integration expanded their world. While gentrification has closed many clubs over the last two decades, musicians are transforming the future through education and community outreach. 
Experience the groundbreaking sounds of bebop pioneer and virtuoso composer Max Roach, whose far-reaching ambitions were inspired and challenged by the inequities of the society around him.
Hispanic Heritage Month El Equipo | Independent Lens
October 11 on TV, online & on the PBS app
Legendary U.S. anthropologist Dr. Clyde Snow sets out to train a new group of Latin American students in the use of forensic anthropology. Their goal: to investigate disappearances in Argentina during the "dirty war." The group expands its horizons, traveling to El Salvador, Bolivia and Mexico, doggedly working behind the scenes to establish the facts for the families of the victims.
The Southwest is hot and dry, but for millions of people, it's a place to thrive. After her divorce, Lisa, a writer, redefines herself in the great outdoors; Pulitzer Prize-winning journalist Daniel struggles with linguistic dualities; and after leaving California, Shareé wonders if she can find home. Hosted by Theresa Okokon. Produced in partnership with Arizona PBS.
Take these stories on the go with Stories from the Stage: The Podcast!
An innovative, inspiring documentary series about two best friends who travel the world meeting philanthropists and change-makers, who have dedicated their lives to addressing global humanitarian issues. 
NEW On Sacred Ground | Stories from the Stage
October 23 on TV, online & on the PBS app
For Indigenous Americans, the sacred is connected to the land and traditional ways of seeing. Kevin rallies to oppose housing development on tribal land; Colleen's relationship with her mother provides a view of the judgment heaped on traditional healing; and Valery takes us on a hike...interrupted by Bigfoot! Hosted by Wes Hazard. Produced in partnership with Nebraska Public Media and Vision Maker Media.
Take these stories on the go with Stories from the Stage: The Podcast!
NEW No Time to Fail | America ReFramed
October 26 on TV, online and on the YouTube & PBS apps
Rhode Island's local election administrators and poll workers work around the clock to secure the vote for their community during the 2020 election -- midst an onslaught of attacks from a sitting President and the deadly threat of a global pandemic. Once invisible to the general public, the film spotlights election administrators as the ground zero of American democracy. Watch a Meet the Makers conversation with filmmakers Sara Archambault and Margo Guernsey.

WATCH ONLINE
Breast Cancer Awareness Month Beyond Cancer | Stories from the Stage
October 2 on TV | Available now online & on the PBS app
A cancer diagnosis changes life in innumerable ways. It also teaches us things about ourselves. Erinn applies lessons learned from Grey's Anatomy to help her get care; Megan becomes an advocate after finding out her dream of motherhood will be altered; and Dwayne takes what he picked up back to the football field. Hosted by Wes Hazard.
Take these stories on the go with Stories from the Stage: The Podcast!
Hispanic Heritage Month We Like It Like That | America ReFramed
October 5 on TV | Available now online & on the PBS app
Created by largely Puerto Rican, Cuban and African American youths living alongside each other in the 1960s, Boogaloo served as an authentic and vibrant cultural expression. Explore a pivotal moment in '60s music history when blues, funk and traditional Caribbean rhythms were fused to define a new generation of urban Latinos.
Hispanic Heritage Month Singing Our Way to Freedom
October 5 on TV | Available now on PBS Passport in English and Spanish
Explore the life and music of Ramon "Chunky" Sanchez, from his humble beginnings as a farmworker in Blythe, California to the dramatic moment when he received one of our nation's highest musical honors at the Library of Congress in Washington, D.C. Chunky's arc of transformation from marginalized farm kid to charismatic social activist shows how one person can mobilize people to change the world.
Indigenous Peoples' Day Blood Memory | America ReFramed
October 6 through November 16 online & on the PBS app 
For Sandy White Hawk, the story of America's Indian Adoption Era is not one of saving children but of destroying families and tribes. As an adoption survivor, Sandy sets out to reclaim the missing pieces of her stolen past, only to discover that hers was not an isolated case. Explore the communal healing that is sparked by the return of this stolen generation.
Defining Moments | Stories from the Stage
October 9 on TV | Available now online & on the PBS app
Defining moments can be brief, but what they teach are lessons that last a lifetime. Michelle's outlook transforms when she becomes the subject of a community art project; at 18, Annie assumes the burdens of her Chinese immigrant family; and Elena takes a chance on love & life when she moves to the US from Moscow. Hosted by Wes Hazard.
Take these stories on the go with Stories from the Stage: The Podcast!
Busy Inside | America ReFramed
October 12 on TV, online & on the PBS app
Through personal stories, the film delves deeply into Dissociative Identity Disorder (DID), formerly known as Multiple Personality Disorder. A respected therapist specializing in the condition's treatment and her patient  confront past trauma and embrace their different personalities.
Little Miss Westie | America ReFramed
October 19 on TV, online & on the PBS app
A loving and insightful portrait of two transgender siblings, Luca and Ren, and their parents set in the changing social climate following the 2016 presidential election. Go behind the scenes as the family navigates puberty, school, dating and more as the children begin living in their authentic genders and Ren participates in the Lil' Miss Westie Pageant.
Established by Congress, the 14th Amendment promised citizenship in exchange for enlistment, prompting many African American men. They were denied due to Jim Crow laws but still served. The film examines the profound and often-contradictory roles played by Buffalo Soldiers in U.S. history, and how they fought on two sets of front lines: military conflicts abroad and civil rights struggles at home.
---
Discuss and engage with us on Facebook, Instagram, Twitter and TikTok by using the hashtags #HispanicHeritageMonth and #YourVote and tagging us @worldchannel. Subscribe to our newsletter and YouTube for more features including events and interviews.
Enjoy our content? Consider donating to keep important storytelling like this going, and find more on PBS Passport.