When life throws a curveball that shifts everything you thought you knew, how do we navigate it with truth and resilience? In June, during National Cancer Survivors Month, Stories from the Stage presents eight storytellers from across the country, all with one thing in common: They've beaten cancer.
In partnership with Count Me In, the Broad Institute's cancer research initiative, the stories as told in two new episodes, Living with Cancer and Beyond Cancer, explore the wide range of experiences an individual goes through when diagnosed with cancer: grief, healing, fortitude and continuing advocacy for all cancer patients.
For the eight survivors who took to our stage – Daniel G Garza, Leslie Nguyen-Okwu, Mel Mann, Sheila Johnson, Erinn Budd, Dwayne Brown, Megan-Claire Chase and Suzette Simon – sharing their stories went much deeper than simply reciting a narrative.
"I want people to hear my story – the pain, the humor, but also see the natural resilience and feel empowered," said Chase, who beat stage 2 lobular breast cancer six years ago. "I hope the audience will come away with how layered it is and how complicated it is when you get a cancer diagnosis."
The storytellers are aware that the impact of sharing extends beyond the immediate community. For Garza, telling his story of surviving both anal cancer and HIV with love and laughter was an opportunity to connect with people in the Latino community who may not have the ability to assert themselves in certain spaces or situations.
"I'm very privileged when it comes to the Latino spectrum. I speak both English and Spanish, I'm educated, I have a platform. But there are so many Latinos who are monolingual, undocumented, fear for their lives on a daily basis," he said. "I have a responsibility to make sure that I put a voice out there for all the people that are scared, overwhelmed or not prepared to share their own story. I'm not just representing myself, I'm representing a whole group."
While each storyteller shares a moment or experience that would resonate with anyone listening, what's most powerful about their stories is the focus on spreading awareness about being diagnosed, being treated and being an advocate for yourself. According to the American Cancer Society, African Americans are the most at risk of dying of most cancers of any racial or ethnic group, but health disparities continue even today for communities of color.
Black women, for example, are more likely to die from breast cancer than any other race or ethnic group. "If there's a little bit more awareness, and if Black women know that they're at risk, then we can actually lower those numbers," said Simon, a breast cancer survivor. The comedian founded the nonprofit New York Laughs which brings people from across the five boroughs together to hear stories they may not have otherwise.
Chase echoed the sentiment: "I really want people to walk away without being afraid to ask questions. Sometimes you don't know what you don't know. Hopefully, this will make someone else's experience easier, or it will help other Black women to not be afraid to advocate for themselves and demand to be heard, because we matter."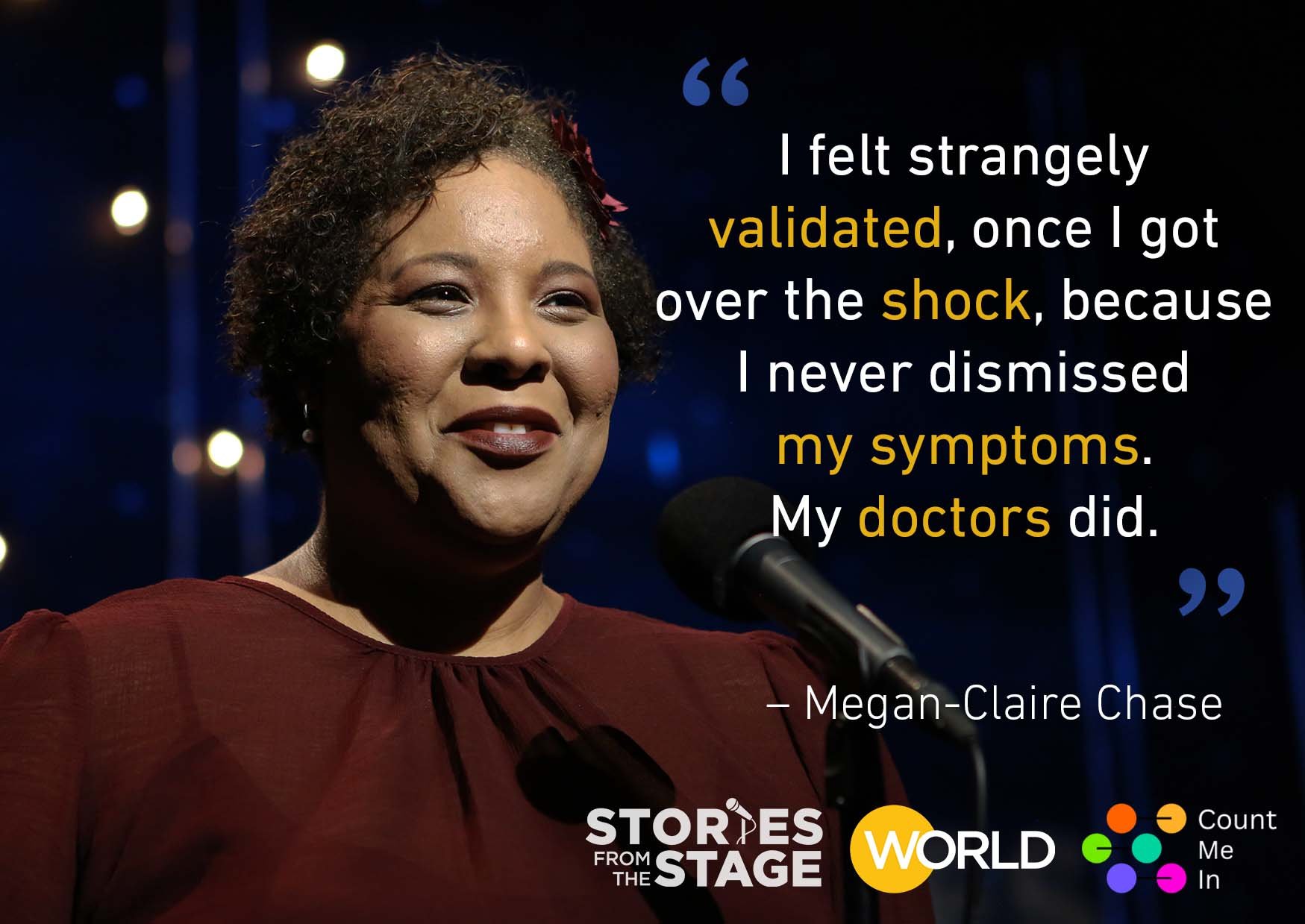 For Johnson, a U.S. Air Force veteran who was diagnosed with breast cancer while in the military, the motivation to bring more attention to cancer in communities of color is even more personal. "My mom died [from breast cancer] in 2004, and I received [my own diagnosis] in 2009. I didn't even know Black women could get breast cancer, except my mom. You look at the commercials and only see white women," Johnson shared. "Before cancer, I never wanted to speak in front [of people]. But the cancer brought it out of me. The world needs to hear this, and so does my community. They need to hear that somebody's out here advocating for them to get the best standard of care that they can." 
In BIPOC communities, healthcare remains a space many don't feel welcome or comfortable in. Trust in the system is something that Brown – a former All-American offensive lineman who beat cancer not once, but twice – is working to help build among his Black peers, something that's been broken time and again throughout American history.
"When you look at the numbers, it's killing us. We die of cancer at a disproportionate rate. I want to try to be an advocate and give people that voice," Brown said. "There aren't people that look like me that talk about cancer, and my story is very, very unique. I felt like I'd be crazy to not share it and be able to help another athlete or another person in general."
Mann, too, wants to bring awareness to the Black community – specifically about clinical trials. When he was diagnosed with leukemia, he was fortunate to be invited to a trial that ended up saving his life. But too many Black men have been left out of this conversation.
"I want all people to have the opportunity to get the type of medicine that I was able to take advantage of," Mann said. "My storytelling has shown people a Black person who participated in a clinical trial many years ago. He's still here, and he's still doing well. I want to give them hope and help them trust in the clinical trial system."
In order to build that trust, though, allowing ourselves to be vulnerable about everything that comes along with a cancer diagnosis, treatment and life in remission is invaluable – and storytelling provides a platform to do so.
"At the time I was diagnosed, I thought I had no control over cancer – while I don't have any control over the disease, I do have control over what I give to the world. Storytelling has given me back that control," Johnson said. "Every time I talk about cancer, someone is learning from it, and we're defeating it, whether we know about it or not. Somebody is doing their breast self-exam, finding it early, or getting their mammogram. Every day, we're defeating cancer."
Nguyen-Okwu, who is just a few months out from treatment for non-Hodgkin lymphoma and is now writing a memoir, said that although it's challenging in the moment, choosing to be open about what she's gone through and continues to endure is rewarding in more ways than one: "It is so difficult – you're dredging up such dark secrets. But I know that, somewhere out there, someone's going to feel less alone. And if that's the case, then it's completely worth it."
For Budd, telling her story of self-advocacy was an emotional task, but one that gave her a new appreciation for what she can give others.
"There's something about actually being in an intimate space and baring your soul to everyone there. Crafting this story…felt like I was pouring more of myself into it, and it was a little scary. But putting it into words and speaking it out loud is bringing truth to something that feels a little distant at some points," she shared.
It's a belief shared by all of the tellers: sharing about a difficult diagnosis makes a difference in persevering through it.
For Chase, it was writing, at first – she began her blog Life on the Cancer Train after finding herself sorting through conflicting emotions after becoming cancer-free. "It lets me know that I'm not alone, and I want others to know that they're not alone. This cancer journey, even if you have wonderful family and friends around you, if they're outside of what I call 'Cancer Land,' it's hard to connect," she said. 
For Simon, telling her story gives her the ability to use comedy to spread her message. "We don't like to talk about cancer, but we love to laugh. [Cancer is] nothing to laugh at, but the old ways aren't working, so we might as well throw some jokes in there. Things need to change, and that's what I'm hoping laughter will do," she said.
In providing a platform for storytellers like these eight survivors to share what they've been through, Stories from the Stage hopes to give others the hope and support necessary to manage their own challenging days.
"My life is not in cancer's hands, but it is in the stories that I'm telling each and every day," said Johnson. "That's what storytelling does for me: It gives me such a relief. I can breathe, because I know I left some good in this world."
---
Discuss and engage with us on Facebook, Instagram, Twitter and TikTok by using the hashtag #StoriesFromTheStage and tagging us @worldchannel. Subscribe to our newsletter and YouTube for more features including events and interviews.
Enjoy our content? Consider donating to keep important storytelling like this going, and find more on PBS Passport.