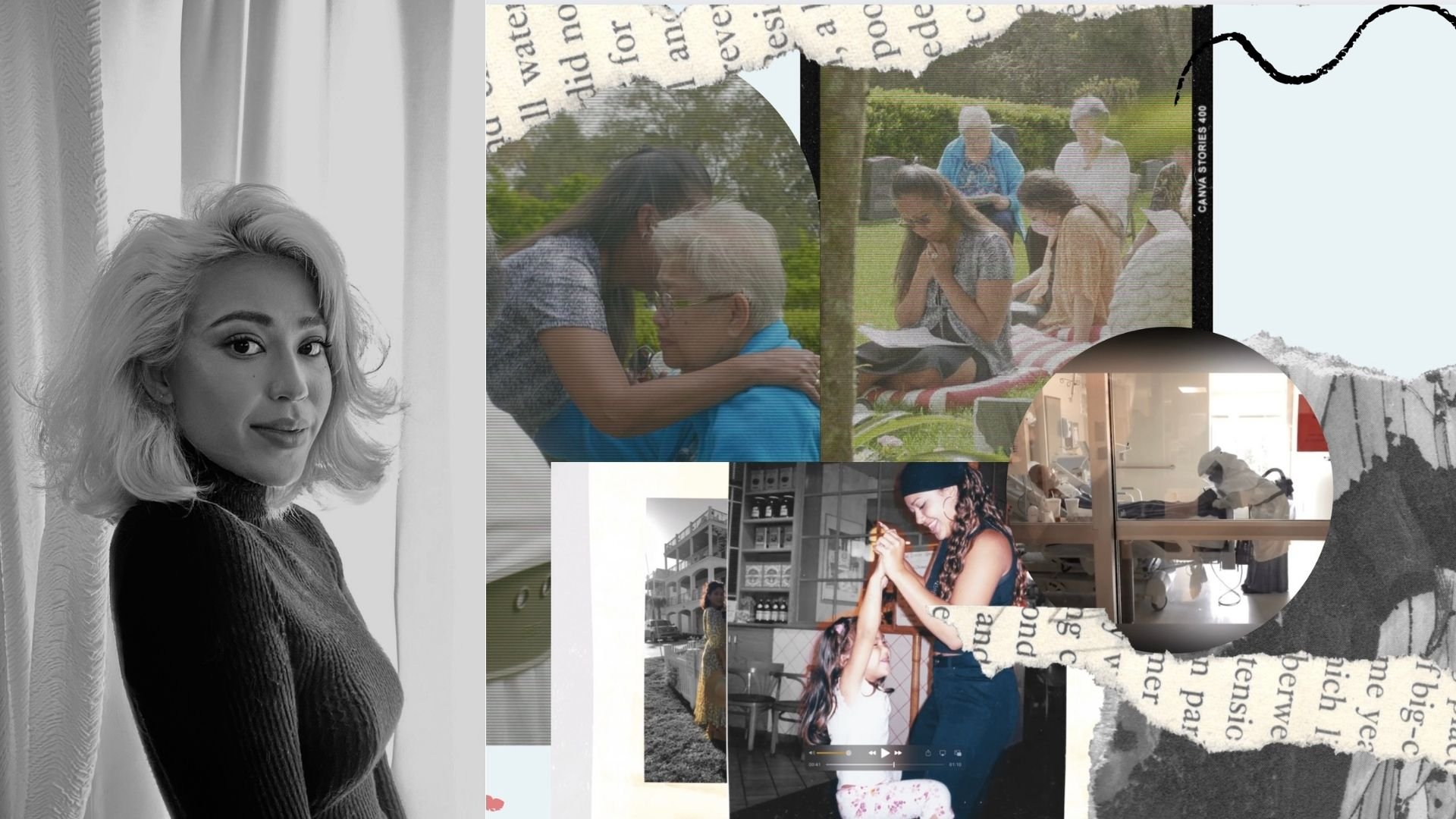 In her short film 'Malditas,' Bree Nieves documents how her Catholic Filipino community grapples with grief after the death of her uncle Vince. The director centers the film around herself and her cousin Giselle coming to terms with their new reality in the conservative Florida county they were raised in. Through heartbreak and celebration, Nieves further examines her multi-racial heritage, devout faith and familial relationships.
Growing up, Nieves recounts, she always saw Giselle as the "perfect child" – well-behaved and well-liked. But at home, Giselle, too, was "maldita," or combative. Combining interviews with archival and verité footage, Nieves presents her family's personal resilience during a time of increased hate and violence toward the Asian American and Native Hawaiian/Pacific Islander (AANHPI) community. 
"At the time, there was unrest against Asian women and men – emotional violence, emotional labor," Nieves said. "The call to action came when me and my family were working through how to make sense of our grief." 
The Filipinx-Puerto Rican filmmaker talked to WORLD Channel about her film and how the intersections of her identity came into play in telling her family's story. 
WORLD Channel: Why was it important for you to tell your story? 
Bree Nieves: The hate the AANHPI community has faced in the last few years, since the height of the pandemic, influenced the film. I [myself] experienced uncomfortable situations and have found it difficult to move past. There [are] a lot of misperceptions and stereotypes of Asian women, and I've fallen into that living in the South. It has made me have compassion for myself and for others, to understand that ignorance is a reality.
WC: What does resilience mean to you?
BN: It's important to say that we're worthwhile, we're smart and we have value in a diverse sense of the word. [There are] all of these lost stories of how much we have had to carve a space out for ourselves. Filipino men were brought here, and they were not allowed to marry white women. They married mostly Chicana women, which created a whole culture. In a way, that's resilience. 
It's also holding true to who you are, even when others don't like it. Being proud of how much ritual goes on is definitely a form of resilience in the Bible Belt, because it's Baptist, it's Protestant – and that does not mean Catholic. Making a film that shows the rosary is something I would have never done prior. It's radical [for me] to say, "Hey, this is what my family does, so let's show it."
WC: How can storytelling create meaningful change? 
BN: Storytelling is like re-myth making. In some cases, film has been used as propaganda, so we can understand the power of the moving image. Storytelling is also an extension of writing and poetry, where all of these things work together as a way to experience emotion. 
AAPI stories are not told enough. There aren't many AAPI directors in a room, or female AAPI directors in a room. We should widen the scope to understand and recognize the multiple jeopardies we face in different bodies. We should not make a simple decision of showing one perspective because it's the majority. We should think deeply about how to put people in [places of] visibility.
WC: How does your family's culture and heritage contribute to your filmmaking? 
BN: Being Filipino and Afro-Puerto Rican, and living in that intersection, is important because both of those communities have been hyper-colonized by the U.S. Puerto Rican women were [used to test] birth control, and Filipino women have been comfort women to the U.S. military. [They] face a lack of development, resources and access because of the U.S. Those are important things in my own filmmaking, my understanding of my femininity, and how I even got to the U.S. By living on that line, I'm able to share thoughts from both sides.
As Americans, we tend to compartmentalize when it comes to an experience. Because I am of multiple ethnicities, I experience "Asian-ness" in different ways. My uncle, who is Vietnamese, experiences his life and culture one way. Family members in Hawai'i experience [theirs] in another way. 
My mom is a die-hard American, and you wouldn't expect it. Living in the South and being raised in Niceville, Florida, a small, military community in the Panhandle, shows you that people can be in the AAPI community and yet hold views that you would not expect them to have. [People] think Asians are a monolith, but we have different identities, and some of those may be ones you don't agree with or feel aligned with. 
WC: What do you hope audiences will take away from 'Malditas'? 
BN: I wish there was more background on myself in the film to really understand the journey. When I was younger, I went far away from my Catholic upbringing. I [eventually] made sense of myself being a queer individual, which is what brought me back to my Catholic faith. I hope the audience can see that these things can be more opaque, and that it's okay. It's important to have that as you get older and recognize that everything is transient. People may not be there forever, and that's meaningful to me as I become a mom and enter into that period of life.
Bree Nieves' 'Malditas' is now streaming on the PBS app and WORLD Channel's YouTube. Asian American Stories of Resilience and Beyond is presented in partnership with the Asian American Documentary Network and the
Center for Asian American Media.